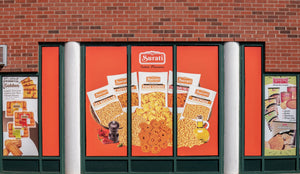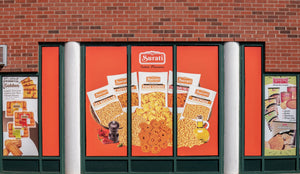 Visit us at our retail Store
Indian Snacks, Packaged Goods, Fresh Food,
& More
300 Middlefield Rd Scarborough, Ontario, Canada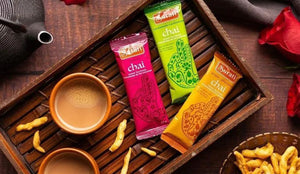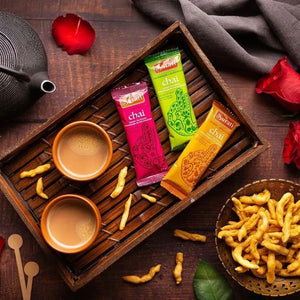 Instant Masala Teas (Premixed)
Try our line of Surati Masala Teas for the ultimate pick-me-up! These are premixed, so all you need to do is add water and you can sip away!
For over 70 years, Surati has been serving customers around the world with high-quality, authentic Indian snacks and foods made from traditional family recipes. Surati's online store offers an amazing selection of snacks, sweets, and fast food dishes delivered right to your door! Learn more about us here

Free Shipping to Canada and America on all orders over $60
Browse By Product Category
Our Mission is Authenticness
If you're looking for real, flavourful Indian snacks, then you're at the right spot! Our mission has not changed since we began our journey many years ago with the main objective of giving our consumers the heartiest foods. You won't find traditional Indian snacks that taste as wonderful as these anywhere else, we guarantee it, thanks to our years of experience and our old family recipes.
Surati snacks achieves a singular mixture of authenticity via our unsurpassed freshness and special spice blends, whether they are imported from home or freshly prepared in our Toronto facility.
Feel free to browse the numerous other product categories we offer such as Surati Snacks, Specialty Snacks, Teas, Bhungra, Indian Grocery, Bakery, Parle and Retail & Catering.
Let customers speak for us
Surati's Instant Masala Teas
Try our line of Surati Masala Teas for the ultimate pick-me-up! These are premixed, so all you need to do is add water and you can sip away!
Discover Our Masala Teas
Frequently Asked Questions
Orders of $60 and more qualify for free shipping. To receive free shipping, select the Free Standard Shipping option on the checkout page.
At this time we only service orders within Canada and the US.
Absolutely! All you need to do is add hot water to a cup and mix the tea sachets in then stir, and it's ready to drink!
Yes they are! All our Indian snacks are made fresh in our Toronto facility and shipped to you directly from our warehouse.
About Surati World
Welcome to Surati World, where you can find a wide variety of authentic Indian snacks at your fingertips. As a leading provider of high-quality snacks, we take pride in offering our customers the best products and services that meet their needs and exceed their expectations.
Our extensive selection of snacks includes traditional and modern flavours that are sure to satisfy any craving. From spicy to sweet, savoury to crunchy, we have something for everyone. All of our products are made with the finest ingredients, ensuring that you get the authentic taste of India in every bite.
As a company, we are committed to providing our customers with the best possible shopping experience. That's why we offer fast and reliable shipping, secure online payment options, and excellent customer service. Whether you're looking for a quick snack or a gift for someone special, we've got you covered.
So why wait? Browse our online store today and discover the delicious world of Indian snacks. With our easy-to-use website and hassle-free shopping experience, it's never been easier to satisfy your cravings for authentic Indian flavors.
Drop Us a Review on Google!
Happy with our products and/or service? Why not let us know by dropping a quick review on Google? It makes a huge difference for us and we would greatly appreciate it!
CLICK HERE TO DROP US A GOOGLE REVIEW!